I took a leave from my blogging this week to catch up with work and take care of some things around the house. Most of my time is spent writing in this office/bedroom space. Took a few pictures tonight: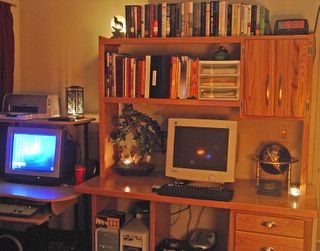 My soon-to-be-completed new modular oak desk, designed and built by Rich. I love the furniture he makes--all gorgeous grains and rounded edges. Eventually the old desk on the left will be eliminated, and the new oak desk will continue to cuve gently around to the next wall. He's also adding bottom shelves and keyboard drawers for both computers.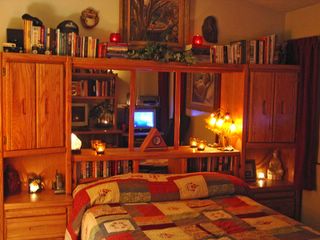 The rest of the room--a quiet and cosy place to work in the evenings. As you can see, I'm addicted to candlelight and books.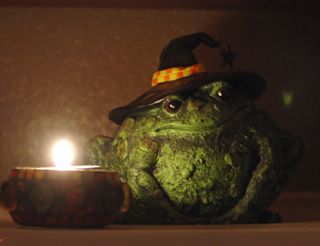 Of course I love fairy tales, mythology and all things magical. This funny little toad guards over the paper supplies.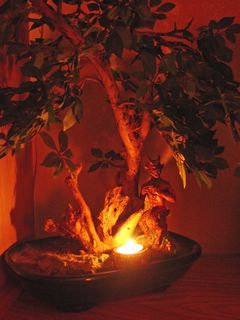 Pan plays his pipes under the Bonsai tree while a baby otter sleeps at his feet. Growing up with Juno for a name naturally made me a huge fan of Greek and Roman mythology. Pan has always been a favorite--especially in his aspect of protector of children and animals.
Morrigu, the Celtic warrior goddess, and a woodsy moon candleholder of copper and Roman glass.
Quan Yin, goddess of compassion.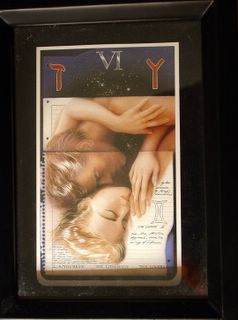 This beautiful rendition of The Lover's card rests on top of the wardrobe.